A Franchise that Packs a Punch!
Invest in You. Invest in Keppner Boxing.
Do you want to invest in the lucrative fitness and boxing industry? Are you seeking a fitness franchise opportunity that packs a punch? The Keppner Boxing franchise opportunity is here.

Keppner Boxing is a home for high-energy fitness classes and the best boxing instruction in town. Our mission is to positively impact as many lives as possible through the discipline of boxing and fitness in a safe and supportive environment. We know we have something unique and have strategically designed our franchise model for ease of operations and replication in the hands of our franchise partners.


Opportunity is Knocking.
Our foundations are what have spurred our model to be the very best in the industry. Founders Keith and Lissa Keppner both come from a boxing background and understand what goes into true coaching empowerment and effective training techniques. Utilizing fitness facility management experience, years in professional coaching, and personal successes, our Keppner Boxing leadership team is truly the team you want in your corner as a franchisee! Our clients are more like family. In the same way, franchise partners are experiencing a cohesive team environment through our comprehensive training and ongoing support!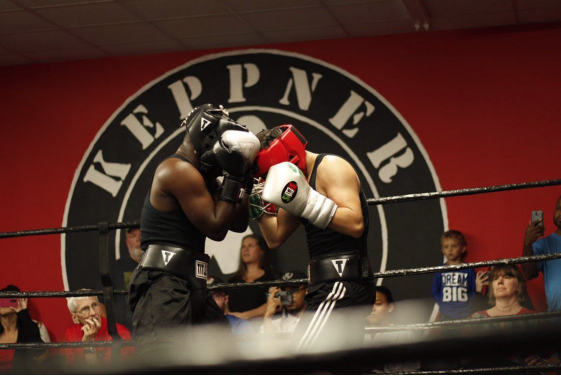 The entire franchise system is a turnkey operation enhanced by our innovation and uniqueness. By focusing on quality programs, training, and coaching, franchise partners are rewarded with customer loyalty, word-of-mouth referrals, and overall profitability.
Become a Keppner Boxing Franchise Partner
Launching a business can be a stressful undertaking. With our team at Keppner Boxing, we will help you along in your franchise journey, eliminating the guesswork typically found in business ownership. Pre-launch preparations, site selection, build-out specifications, marketing guidelines, and staff training are just the beginning of our help to you! Your success is our success.
The Keppner Boxing team will guide you in your entire franchise journey, so you never end up on the ropes! This business has a strong potential ROI and a rewarding day-to-day lifestyle where you are helping others better themselves.
Always In Your Corner
When you start your franchise with Keppner Boxing, you are gaining a team of industry experts with decades of boxing experience, so we can make your boxing franchise better than all the others! Our franchise partners gain:
Operational & Marketing Guidance
Ongoing Field Support
Exclusive Territory
Dual-Phase Training Program + Refresher Courses
Incredible Branding

Easy to See the Difference
Don't miss this ground floor opportunity to share in our unbelievable boxing franchise experience. In addition to the extensive support and benefits mentioned above, our concept also offers you...

Join the Lucrative Fitness Industry
Proven Business Model
Simple Day-to-Day Operations
Structured Curriculum/Methodologies